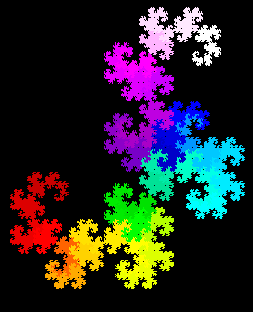 Dragon Fractal at 17th Iteration
Why all this new Fractalic Terminology?
If you've read metaphysical, spiritual, or new age materials, you will, most likely, have come across new terminology that the authors have included in their books to describe aspects of their understanding.
Since I feel that what I have to share is unique and unprecedented in the metaphysical or spiritual literature, I did not want to present it as an interpretation of someone else's terms, but as a revealing of entirely new understanding.
Therefore, whenever possible, I have avoided terms that someone else has coined so that I can provide my readers with an understanding that is not based on any previous beliefs or belief systems. My means for doing so was to develop new terminology and define it precisely.
The chapters of my book are organized with the intent of building on one another. Thus, the later chapters have much more of the new terminology that the first chapters do. Familiarity with the Glossary will aid greatly in following the concepts presented in my writing.
On to the Glossary of Fractalic Terminology!
Go Back to Fractalic Awakening Home!
Copyright 2005 LariAnn Garner
All Rights Reserved